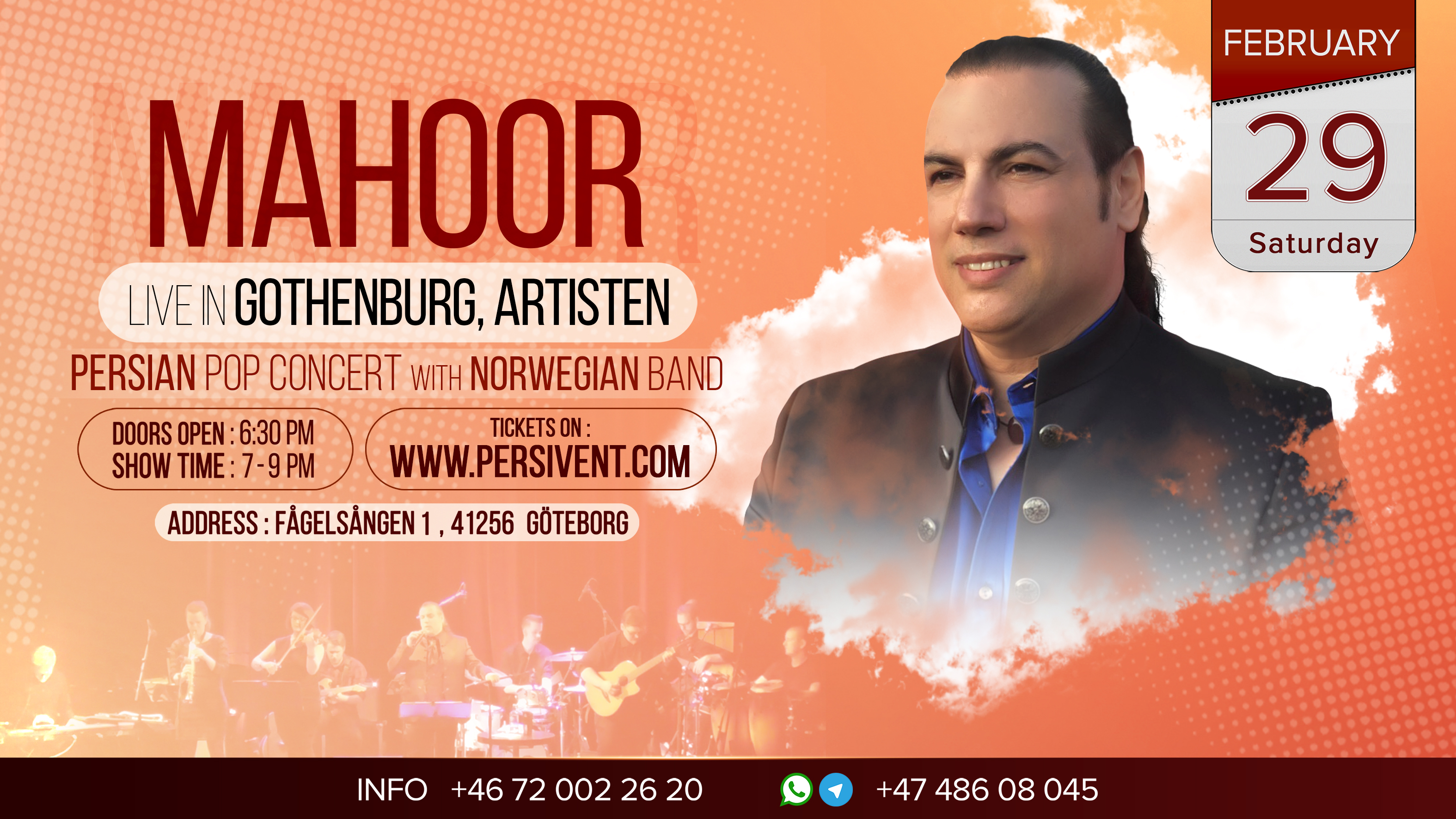 It is with great pleasure that we invite you to a very special evening of Persian Classical Pop music featuring:
MAHOOR
Göteborg- Artisten
Saturday 29'th February 2020
19:00- 21:00
A Persian-Norwegian singer and musician, Mahoor has an extensive history in Classical Pop music. He holds the honor of being chosen to sing for the 2019 AFC football cup and proudly performs with his Norwegian-French band both locally and internationally.
This concert will be a unique cultural event for those interested in or curious about Eastern Classical Pop music. In celebration of Valentine's Day, Mahoor will enchant you with his released romantic and heartwarming songs in both Persian and English. These, and other beautiful classic Persian and English nostalgic songs, are sure to awaken many wonderful memories as well as inspire new ones.
You can find Mahoor and his songs on Instagram, Facebook, ITunes, Spotify and his personal website.
Join the event on 29'th February and let's make a wonderful and memorial evening by sharing this enjoyable night together!
Door will be open at: 18:30
Tickets : VIP. 390 SEK, Standard. 350 SEK, Student. 250 SEK, Children. 180 SEK ( All tickets included 10% Administartion fee)
Students will show valid ID card with tickets
Childrens tickets only for below 10 years old
Age limit: +5
Info: +46720022620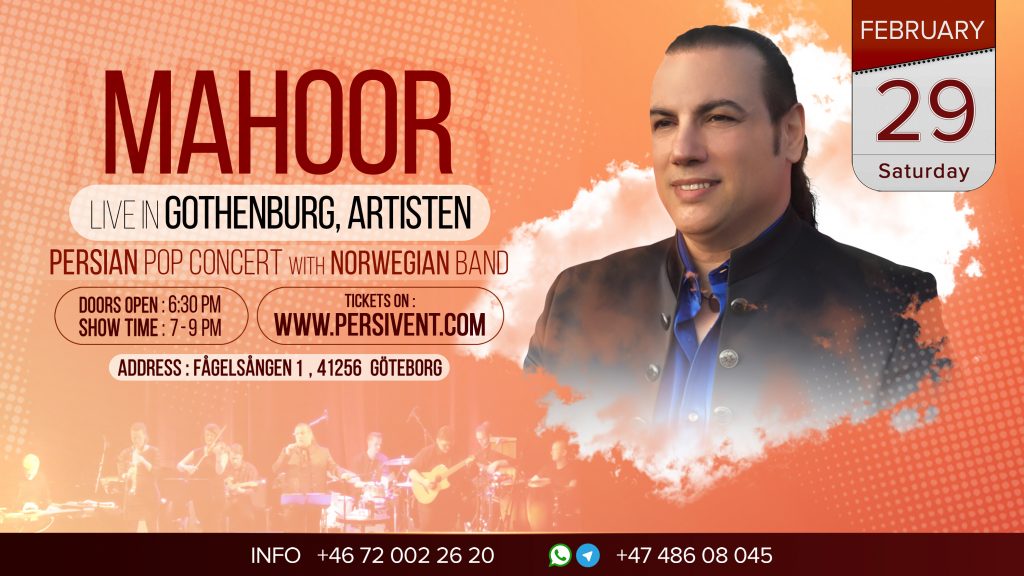 دوستان و همراهان نازنین
بسیار خرسندیم که برای اولین بار شما عزیزان را برای کنسرت زنده پاپ به خوانندگی ماهور در گوتنبرگ و به نوازندگی ارکستر نروژی دعوت می کنیم.
MAHOOR
Göteborg- Artisten
Saturday 29'th February 2020
19:00- 21:00
در این کنسرت علاوه بر اجرای زنده جدیدترین آثار عاشقانه منتشر شده ماهور ، قطعات زیادی از آثار نوستالژیک و خاطره ساز برای شما عزیزان بازخوانی و اجرا خواهد شد تا شبی زیبا برای شما به یادگار بماند
ماهور خواننده ایرانی / نروژی
پیانیست و مدرس موسیقی/ آواز پاپ در اسلو
موسیقی را از خردسالی با تعلیم ساز تخصصی خود ، پیانو ، آغاز کرده و در چند سال اخیر زندگی خود را صرف تعلیم موسیقی ( پیانو ، گیتار و آواز ) به هنرجویان خردسال و بزرگسال خود کرده است
اولین فعالیت رسمی و فارسی ماهور با انتشار آلبوم عشق بزرگ آغاز شد که به صورت دیجیتالی در ایتونز و اسپاتیفای در دسترس می باشد. در سال ۲۰۱۹ به خواننده منتخب برای جام ملت های آسیایی قطعه «قهرمان» و قطعه «افتخار» را تولید و منتشر کرد
ماهور در چند سال اخیر تلاش بسیاری کرده تا تعدادی موزیسین های نروژی را به عنوان ارکستر دایمی خود برای اجرای موسیقی پاپ / کلاسیک ایرانی تعلیم دهد
ماهور و قطعاتش رو در آدرس های زیر می توانید فالو کنید
با آرزوی شبی زیبا و خاطره ساز در شهر گوتنبرگ با همراهی همه عزیزان ۲۹ فوریه ۲۰۲۰
اين برنامه از طرف هيچ ارگان و سازمانى حمايت مالى نميشود و فقط با پشتيبانى عزيزان هموطن و طرفداران نازنين اداره ميشود
درب سالن ساعت 18:30 باز خواهد شد.
قیمت بلیط ها:
VIP: 390 SEK
Standard: 350 SEK
Students: 250 SEK
Children up to 10 years old: 180 SEK