The event is expired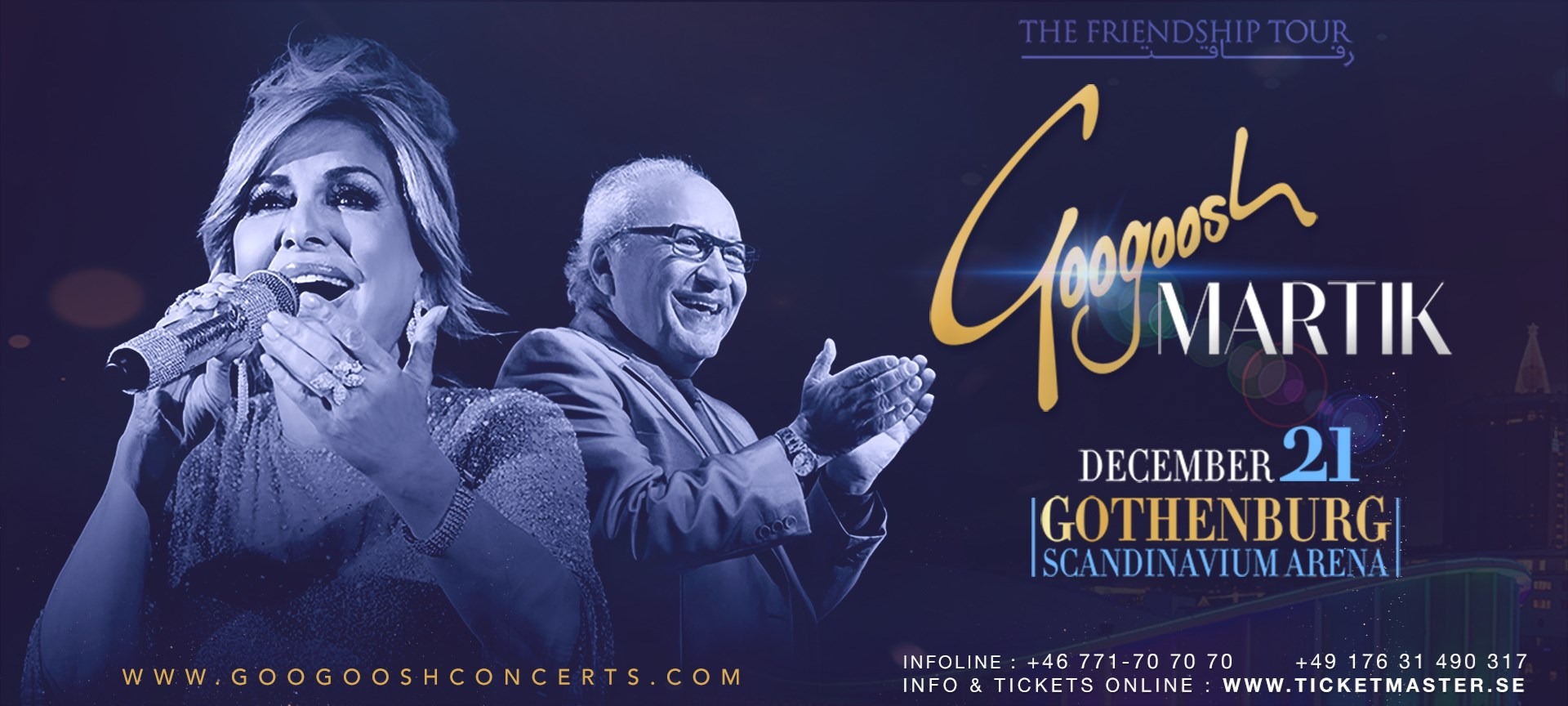 Boasting a career that spans more than six decades, Iranian music legends Googoosh and Martik going to visit Gothenborg with an exclusive performance on Saturday, December 21, 2019 (8PM) at Scandinavium. The evening will feature Googoosh & Martik's Friendship "Refaghat" Tour repertoire in which both legends re-unite together on a single stage after 40 years.
The initial step which leaded to the creation of the Friendship "Refaghat" Tour started in 2018 when both legends came together and initiated the creation of 3 new featuring tracks, namely; Asheghet Hastam "Loving You" & Eshghe Kamyab "Scarce Love" and Refaghat "Friendship". The emotional and nostalgic intensity of these collabrations was such a success with their fanbase which eventually led to the start of a an exclusive show with both the legends together on one stage touring through North America, Europe, The Middle-East and so on.
Playfully dubbed "Iran's Madonna", Googoosh has performed on the international stage and headlined numerous music festivals alongside such notable artists as Ray Charles, Tina Turner, and Charles Azanvour. Googoosh is considered the most successful Iranian artist in the world.
After the current government of Iran imposed a 21-year performing ban following the 1979 Islamic Revolution, Googoosh left the country in 2000 to undertake a world tour. Persevering and re-establishing her status as the most revered Iranian artist, she performed sold-out concerts in prestigious venues such Staples Center in Los Angeles, Madison Square Garden in New York City, and Wembley Arena in London, amongst many others. Her shows were witnessed by over half a million audience members in the space of a year. Despite over two decades of silence, Iranians continued their admiration, love and loyalty to an enduring star of a bygone era.
Googoosh has maintained her worldly global presence by breaking the glass ceiling of cultural barriers and foreign languages. By recording songs in English, French, Spanish and Italian, she consistently touched audiences across the globe with her sweet, authentic musings. Googoosh was awarded the Special Cultural Medal of Tunisia, making her the only Iranian recording artist to be signed with the European record companies Barclay of France and RCA of Italy.
Googoosh also has an well-established film career. Having performed in 25 motion pictures, she has received an unprecedented number of awards and praise for her inspired work. She received the "Sepas" (equivalent of the Oscar's in Iran) award for her role in "Bita". And one year prior to the revolution her starring title in "Dar Emtedadeh Shab" manifested itself as one of the most successful Iranian films of all time.
Martik started his musical footsteps as a very talented musician and eventually became the bandleader of Googoosh. With a special invitation to perform at the Eiffel Tower in Paris for a straight month in 1971, Googoosh went to perform as the very first Iranian artist alongside his bandleader.
Years later, just before the Islamic Revolution of 1979, Martik and Googoosh performed two duets which both were written and produced by Martik himself. Both becoming huge hits at the time gave the new established pop artist the platform to start a solo carrier and build it up with his own works. His first solo work Silk "Harir" might be considered Martik's greatest solo work. Googoosh and Martik did also released another all-time classic called Lover "Mashoogh" in 1977.
After the Islamic Revolution of 1979, any kind of music was banned in Iran. Martik fled the country and migrated to California and years later in 1984 he released his first album called Friendship "Refaghat". The album became the most successful Iranian album of the 1980's. Martik has since then released 11 successful albums, touring the world all the way from Los Angeles to Sydney.
Join us for an evening of magic celebrating Googoosh & Martik's exclusive performance, as part of their "Friendship" World Tour accompanied by the legendary music director Manouchehr Cheshmazar at the amazing Scandinavium in Gothenborg, Sweden.
Ticket prices start at SEK 499,- and are available via the website of Ticketmaster Sweden (www.ticketmaster.se).
Length of the show: 210 minutes including 30-40 min intermission.